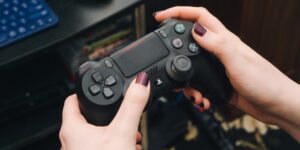 (As picked by yours truly, of course!)
The global crisis we're facing due to COVID-19 the past several months has been a true test for even the most extreme introverts. For extroverts, its been absolute torment. The memes floating around about how gamers have been prepared for such things are funny because of just how painfully true they are. No matter what side you fall on, it's safe to say that the need for entertainment has proven to be important now more than ever. Entertainment means different things for everyone, but the ever-attentive market has responded in kind with various answers. Here are my best games for this pandemic, especially if you're in quarantine or isolation.
The gaming market, for one, has been more than generous, to say the least! From Steam sales, including limited-time Free-Play games, to Humble Bundle offering an AMAZING deal of a bundle to raise money for COVID-19 research and response!
Starting here will get you through just about every day of the coming weeks or months, depending on your situation. Even if you're on consoles only, it's been like Black Friday and Cyber Monday every day for weeks! I was able to pick up some new games very cheap for Switch via the Nintendo eShop, as well.
Trans Shoutout –

Before we get into my personal favorite games for Times Like These(TM), I would like to give a quick shout-out to one of our Trans Siblings, @LilahSturges! She's an award-winning comics writer, (Lumberjanes, The Magicians) from Austin, TX, as well as a wonderful voice that contributes so much to the Trans Twitter community. I would like to show her the recognition she deserves for sharing GoFundMe's, bringing attention to often overlooked issues using her substantial platform, maintaining the #transpizza pizza giveaway, and so much more!

A copy of Lumberjanes: The Infernal Compass can be found in the bundle linked above. I personally recommend it! It's incredibly cute, heartwarming, and the characters feel like real people!
1. Animal Crossing: New Horizons (ACNH)
This game simply could not have released at a better time, fortunately for those of us that own Switch consoles and can swing the full price of such a big title. An ironic competitor to Doom: Eternal, the memes about the two crowd-favorite characters being friends were well-deserved. The memes about time-skipping in Animal Crossing to "race" ahead of others, however, were a subtle reminder that even when games aren't meant to be competitive, people will still find a way to make them competitive.
The talk and memes surrounding it certainly cement its place as the gamer pop culture equivalent to the reality junkie dream show (see: absolute trainwreck) that is Tiger King. Already it has accrued 18 perfect 100/100 ratings as of the time I write this, overall achieving a 91 critic score via Metacritic. Naturally, its speculated to receive an equally stunning amount of awards. On the other hand, there is a common criticism from the average player about Nintendo's decision to limit the game to allow one island per console.
This means that if you want to play with your friend, your spouse, or your kids want to play together, they will have to share one island, playing single-player and taking turns or playing local co-op (2-4 players) using a leader/follower system. Some players, such as myself, counter that this system is fine for their purposes and playstyles. Others insist that Nintendo is greedy for basically forcing people to buy more Switch consoles for the sake of playing multiple islands in one household. This is especially true where players may not agree with how an island should be setup.
Overall, while you may not be able to fill every hour of the day with this game (you certainly could), it is, in my opinion, one of the most pleasant and satisfying ways to unwind for an hour or two. If you've liked previous installments, this is a must-have. If you've never tried an Animal Crossing game, you can get a taste of the game's mechanics in Animal Crossing: Pocket Camp on your smartphone's app store for free!
2. Minecraft: Java Edition
A game even more over-talked than the last, Minecraft: Java Edition has remained relevant as an online multiplayer juggernaut for its extreme versatility via custom servers that use their own cocktails of plugins and formats. No matter your play style, or what genre of game you like, you are sure to find something you enjoy on a server somewhere.
In fact, Minecraft just saw its biggest update since its initial release not long ago, introducing many new features related to the updated Nether Biomes! Personally, I've been playing since Beta in 2010, and I'm still playing online in my favorite community.
If you never knew how many different mod packs, challenge maps, and other downloadable content there is for Minecraft outside of mods alone, now is the time to look into it! For what it is, this game is worth the asking price, but you have to get the Java edition for PC. It is the most updated version with the most access to online features and mods.
Many people tend to shy away from it due to its reputation as a "child's game" or something "only 12-year-old's play", but if you get beyond that, you'll find a large community of adults that play Minecraft and are queer folks, especially of the trans variety. Minecraft can be an especially good way to keep your kid(s) busy while you attend to other things, like that sourdough starter you've been meaning to make.
3. The Sims 4
I can't speak for the vanilla Sims 4 experience these days, but if you have expansions packs and/or mods, it can be an infinite time-waster. True, it can be compared to a really fancy way of what is essentially "playing dolls", but the sales don't lie. Even people who complain about EA deciding to subscribe to the DLC strategy for increasing profits still typically end up buying most, if not all, of the packs (trust me, my wife and I are exactly these people).
There are many communities for sharing mods, competing in challenges like the "100 Baby Challenge" and events like "Sim Swap" where players make sims of each other based on a pic alone, and much more! As with everything else, the traffic in these communities is at an all-time high right now with everyone at home, so if you want to get into the world of the Sims, you can!
The great thing about this one is that this game generates a lot of great content even if you aren't able to play it yourself, for whatever reasons. Watching a Twitch streamer or Youtuber play out a challenge or their stories can be as dramatic and entertaining as anything they have on TV these days! There is a streamer out there of every flavor, so if you have time, go support one or two of them with views and/or donations, if you can.
4. Rimworld
This one I find to be underrated for many reasons, but it has gotten more and more recognition steadily over the years. Ludeon Studios is responsible for this one, of which Tynan Sylvester is the Founder, and I really can't recommend it enough. Tynan Sylvester literally wrote a book on game design, and it shows!
It may be number 4 on the list, but it has always held a special place in my heart as the more accessible version of Dwarf Fortress, but Sci-Fi style. The premise is simple, while the mechanics are famously difficult to wrap your head around at first. It isn't so hard, but the learning curve can be intimidating, to say the least. It can help to watch a video or two about how to get started with the game before jumping into it, but the in-game tutorial is also pretty good for intuitive or veteran gamers.
The nature of the game is challenging and reminds me of a colony survival simulator that is always under some kind of threat. The attacks end up reminding me of tower defense games since you can abuse the pathfinding for most of the enemy types, but the game remains no less difficult.
Surprisingly, it has a wide variety of mods for different playstyles, and recently it actually released DLC! Be sure to look it up on the Steam store if it isn't on your wishlist already!
5. Puzzle Games
These come in such a colorful (literally) variety that I didn't want to just choose one! Even in just the bundle linked above, you can find such titles as Pikuniku, Hacknet, GNOG, A Good Snowman is Hard to Build, Into the Breach, and more!
I love puzzle games because they help keep your mind sharp. They're common in places of education as well for a reason, after all. One of the other games in this genre that I really like is Exapunks! I just got it as a gift from a friend and it has been a huge surprise for me. It's a game set in an alternate universe 1997 where you hack not only to make money to stop the virus known as the Phage from wrecking your body, but you literally hack your own body to repair the damage done by it.
All of these puzzle games have their own unique ways to tease your brain and challenge you to look through different perspectives. Casual puzzle/skill games like Peggle and Angry Birds are equally great recommendations that help are both extremely simple and fun.
6. Board Games
Of course, I'm talking stuff way more fun than staples like Monopoly and Yahtzee!, while those might be fun enough for some families. There are so many board games to pick from these days it can be almost overwhelming, but for those of us that can't really go and risk gathering with others anyway, what's the point in listing something like this?
Well, that's where Tabletop Simulator comes in! Currently, it's only about $20 on Steam, and this is an absolute bargain due to the fact that you can play almost any board game, even Dungeons & Dragons, with friends who also have it. It really is an almost uncanny simulation in regards to how tactile it is when you move pieces and interact with the board.
If you can't swing that, but you like D&D and have been trying to figure out a way to play, I personally recommend Roll20. Roll20 is a free site that allows people to play Tabletop Pen and Paper games with your friends through an easy-to-use system.
7. Card Games
There are many ways to play card games for free online, including sites that allow players to build and play with cards from any card game. Two of my personal favorites include Magic: The Gathering Arena, and Pokemon Online. Pokemon alone has many different games that you can play, including emulators, but that's a whole article on its own.
Arena, for what it's worth, offers new and returning players a completely free way to try out the current Standard format. That means a lot when it comes to the culture of Magic and creating new players who are actually willing to play "paper" Magic, as it is often called. Arena is especially useful for learning how to play Magic, even at its hardest points. I've been collecting paper Magic cards for about 12 years now, so I'm plenty invested, and I don't mind having to start a new collection and make new decks in Arena because that's part of the fun for me!
For those of you who want a way to play Magic with your friends online without having to play Standard or the other formats offered by Arena like Historic or Brawl, I recommend Cockatrice. Cockatrice is an open-source, somewhat clunky, free way to play Magic online with your friends, using any cards. This may be the ideal way to simulate playing Magic as you would at your friend's house with your own decks, or maybe a way to try out new deck ideas with a friend without limitations.
That about wraps up my shortlist of games to help you stay sane during this COVID-19 Quarantine. Be sure to let me know what games you have been using to hang on to your sanity through all this and remember to take care of yourself!