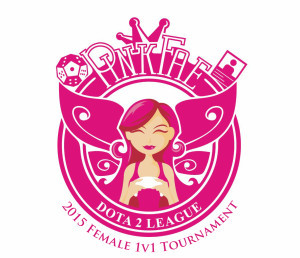 The 2015 Female 1v1 Tournament was held from May 2 – May 9, 2015. It featured players from Canada, the United States, Brazil and Argentina. The best of five game final was between Bird and Elune. Bird had a very good run but couldn't defeat Elune who was perfect throughout the tournament.
There was not an entry fee for the 2015 tournament. Twenty-three players participated in the event with seven who were disqualified due to not showing and one that had to withdrew from the tournament.
The top four players split the $500 tournament prize pool. Elune took 50% of the pot, Bird took 25% of the pot, and Delfnee and Diamond each took 12.5% of the pot. There was also a trophy awarded to Elune.
The tournament was broadcasted live in English by Play with Kimberly and in Portuguese by Impetus e-Sports.
PinkFae Dota 2 League: 2015 Female 1v1 Tournament Player List
Round 1
Round 2
Round 3
Semifinals
Final
Semifinals
Round 3
Round 2
Round 1

Delfnee
Arwen

May 2, 2015

May 2, 2015

Arwen

Forfeit

-

N/A

Crissinabox

Delfnee
Crissinabox
SlothEy

May 3, 2015

May 3, 2015

La volpe

May 2, 2015

SlothEy

Forfeit

-

N/A

Elektra

May 2, 2015

Elektra
Crissinabox
Elektra
Crissinabox
Delfnee
Diamond

May 3, 2015

March 20, 2020

Rassillion

May 2, 2015

DenieD
Rassillion

May 2, 2015

May 2, 2015

Raincoat
Eanke
Bird
Diamond

May 9, 2015

Eanke
Diamond

Bird

May 2, 2015

Bird
Elune
GODDESSА
Adicia

May 3, 2015

May 3, 2015

May 2, 2015

Pindapanda

Pindapanda

Bird
Elune

Darkizinha

May 2, 2015

May 2, 2015

Darkizinha

Forfeit

-

N/A

Swindler

DBR
Swindler

May 2, 2015

May 2, 2015

Swindler
DBR
Elune

Kami
Elune