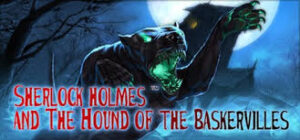 I had to play through Sherlock Holmes and The Hound of The Baskervilles three times to get the last achievement (Golden Hound – for having all the other achievements), which would not unlock despite me indeed having all the other achievements, because my two games (normal and hard) were done on two different profiles and they needed to be done on the same one. And the only reason I needed to do more than one anyway was that apparently finishing it on hard does not count as finishing it on normal.. what? That and the "finish 10 hidden object puzzles in under 3 minutes each" achievement is dumb since you get no feedback to tell you if you fail.
Oh, and I couldn't find the actual save game file, no idea where it's hidden, so good luck to you if you mess up! I did find the save game screenshot thumbnail folder (inside %appdata%\roaming\frogwares\sherlock holmes and the hound of the baskervilles), and when those thumbnails were deleted/restored, it messed up and broke my existing test profiles, so that was fun too. My profile reset to a player name of "Katy" or something just before it broke completely. I wonder who that is.
Not sure where the data itself was though. Apparently other people have save corruption or achievements not unlocking sometimes, thankfully I didn't have any other issues besides having to run it three times or I'd have had an aneurysm.
There is a reference to an easter egg.. somewhere.. as well, But I have no idea what/where it was. It just shows as a hidden achievement in game, but not on Steam, as far as I can tell.
Achievements aside, the story breaks the realms of reality, going with Sherlock in a world with various magical powers. If you ignore the way they stomp all over the Sherlock lore, the story was okay, and one play through of the game will normally take you between 3h 30m to 4h or so, but the ending was absolutely terrible, an anti-climatic cutscene that made no sense and prematurely ended the game right at the climax of the plot, after all the build up to that point. Again.. what?
Voice acting was halfway decent, but there were a couple of animated shorts at the start and end of the game, and they were terrible. They should have left it just as static scenes flashing from one to the next, that would have fit better with the rest of the game. I think that the animated shorts were so awful that they actually hurt the game in the end.
Gameplay was mediocre, it's a really generic hidden object game, plus a few easy to medium difficulty puzzles, loosely covered in Sherlock Holmes wrapping paper. There is exactly one "Sherlock Holmes-esque" leap of deduction made by the Great Detective in the game – right at the start, when Henry arrived and was introducing the case. That's it. Hint and puzzle skipping mechanics seemed to work fine, no issues except that some of the items were actually unfamiliar to me and I had to Google them up to find out what I was supposed to look for since the list of items didn't include what the item looked like.
The developer of the game was Waterlily Games, described by Wikipedia as being a sub-studio of Frogwares which "focused on casual, hidden object, and light adventure games for PC and iOS". In that light, they probably did a good job on the game, leaving the parent Frogwares to work on the "true" Sherlock adventure games.
The only other Sherlock game I've played (and also 100%'d) before this is The Testament of Sherlock Holmes, and I loved that one very much. This one however, I cannot recommend. Even as generic hidden object or puzzle adventure games go, there are other better and more engaging ones out there for the same price, like Jolly Rover, Machinarium, Puzzle Agent 1-2, and others.