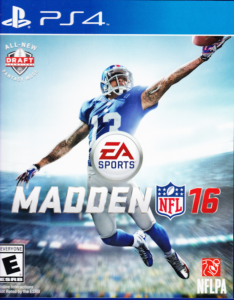 I have been a fan of the Madden NFL series for a very long time. The game has taught me much about the rules and strategy of American football. Early versions of the game allowed you to run plays in a training mode with John Madden instructing the player exactly how the play was going to be run and explaining the terminologies. Later editions allowed you to design your own unique plays that you can use in the game. I never was very good designing my own plays, but it was fun to try to be the coach of my favorite team.
I also love to be able to be the coach and owner of my favorite National Football League team, the Saint Louis Rams. It is exciting to be able to play the franchise mode and take the team to the Super Bowl and ultimately make them a dynasty. If there is one thing that is missing from the Madden NFL series, it is that there never was a way to make a female coach or owner. In fact, even the one current female owner, Virginia Halas McCaskey is not present in the game. She is replaced by the club president Ted Phillips.
It is distressing that Electronic Arts Sports, which goes by the motto "If it's in the game it's the game!", refuses to add the correct owner of the Chicago Bears to the game. Female owners of NFL teams isn't anything new. Virginia Halas McCaskey has been the owner of the Chicago Bears since 1983. The first female owner was Georgia Frontiere who took over the Los Angeles Rams in 1979.
Not only is a current female owner missing from the game, but you also can't create a customized owner with a female avatar. You also cannot create a female coach when playing the coach franchise mode. Jennifer Welter was signed on as the first female NFL coach by the Arizona Cardinals this year for the preseason. It would be keeping with the theme of "it's in the game" if EA Sports added in the ability for players to create a female head coach.
Hopefully in the next edition of the Madden NFL series women owners and coaches will be present in the game, just as it is in the game.