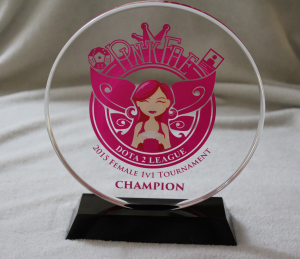 The field for the very first PinkFae Dota 2 League tournament is set to start May 2nd at 2pm CDT. Twenty-three players are competing for the $500 prize pool and the 2015 Female 1v1 Tournament trophy.
Taking the top seed is Delfnee, captain of the team WoH8 (The Six Wives Of Henry VIII) who currently came off of an impressive run in the Girl Wars tournament in April.
Coming in with the second seed is Arwen, captain of the team Famiglia Corleone. Her last team play was in the European Elite League in February where they were knocked out in the first round of play.
Imperium For Hope has two members represented in the PinkFae Dota 2 League: Benideta and Elune. Pepekas Voadoras is also represented by four players: Kami, Diamond, Darkizinha and Nenenxinha. Both of these teams have professional experience.
Rounding off the seedings are a number of players looking to find their way into the professional scene. Any one of them could upset the top seeds and take home the trophy.
You can watch the matches on twitch.tv in English at PlayWithKimberly, a caster for The Wave Gamers. You can also watch it in Portuguese at ImpetusTV.
For the date and times of the matches click here.